How to Answer the Most Common Interview Questions: Part 4
As you prepare for your next interview, keep in mind: almost every single question an interviewer asks could be rephrased as the one main question, "Why should I hire you?" An interview poses one goal for the recruiter, and a million different ways they can get at addressing it. And while most of the questions they'll ask will be designed to vet your qualifications, some will be designed at least in part to see how you react to more absurd interview situations.
As an example, let's break down one such question:
What are your strengths and weaknesses?
This is absurd, no doubt. But interviewers often ask some derivative of the strengths and weaknesses question so it's important to be prepared. They could have simply asked why you're a good candidate for the job, but instead they chose a question that will pull out aspects of your personality (which by the way, are equally important as your qualifications for landing any job). So just be wary about how you frame your answer.
Get yourself up to speed with important interview question one, two, and three. Now on to this awkward one.
Talking about weaknesses:
When you're putting together an answer for the strengths and weaknesses question, it's always a good idea to talk about your weakness first. That way, you'll end on a more positive note as the interviewer moves on to the next question.
First—don't B.S. this. At all. Your interviewer will see right through your answer about "working too hard," so don't even try (plus no one is hiring martyrs these days.) Spinning a negative trait into a positive one might have been a clever interview tactic at one point, but landing a job offer today means you have to get a little more creative. In other words, a little more honest…
Choose an area that you genuinely feel isn't your strong suit. But make sure whatever you choose is not explicitly required for the job you're applying to. It's important to be truthful about the weakness you address without simultaneously shooting yourself in the foot, right? So keep your answer neutral, not overly negative, and above all: brief.
As an example, I'm a designer. When I was asked this question, I mentioned how I had a little experience with HTML, but how most of my experience was in design. However, I also made clear that I wanted to learn how to code as a corollary part of the job I was hired for.
Talking about strengths:
Same as with your weaknesses, this part of the question poses equal opportunity for you to come off sounding completely un-hirable. Your interviewer has heard a lot of overtly cocky, untruthful, and exaggerated responses, so don't be the candidate that they're rolling their eyes at internally.
Saying anything close to, "I'm a born leader who can achieve anything, so if I think something should be done a certain way, that's the way I'll do it," probably won't bode well. This is especially true in an entry-level job interview where the recruiter is almost always looking for someone that's willing to learn from his or her manager on the job (just a tip*).
Another avenue to avoid when designing a response about your strengths is the kitchen sink answer. For example:
"I'm smart, reliable, positive, engaged, detail-oriented, charismatic, responsible…"
This is often the knee-jerk reaction when you don't have a more substantive answer prepared. But spouting off 18 adjectives really only shows that you know how to google, "positive qualities to put on your resume." That doesn't exactly doesn't scream, "Hire me!" to the interviewer.
So the next time you're faced with a question like the strengths and weaknesses question, do a bit of research on the company you're applying to as well as the role itself, and think about one or two qualities that are relevant strengths. Remain honest, and remember that you can talk about hard skills or soft skills, as long as you demonstrate their value with a short anecdote. When you're thinking about your response, ask yourself:
What am I most proud of?
What did my last employer recognize and appreciate about working with me?
When have I created a solution that solved a particular problem?
What would my best friend say about how I respond to stressful situations?
When you have one or two qualities or skills in mind, your only remaining job is to make them relevant to the interviewer with an example of how you put them to use. Ideally your example will be a workplace situation, but sometimes the best evidence of your strength is a story from outside of work, which is fine. Just make sure you tie your answer back to the company and role with a bit about how your strength will play out in their workplace setting. To really nail this part of your answer, connect your strengths to the company's mission or a requirement for the role, and you'll be in really great shape.
Best of luck!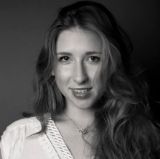 Alex Goldstein is a Social Media and Marketing Design Intern at FirstJob, and graduated from UCLA with a B.A. in Art History and World Arts and Cultures. She has recently fallen in love with scuba diving and plans to work on a dive boat in the future!