How to Answer the Most Common Interview Questions: Part 3
An interview, just like any conversation, is all about a back and forth. The trick to nailing a natural conversation is balance. You're aiming to give the interviewer a well-rounded understanding of your background, but you should never lecture for long periods of time (and neither should they!)
When interview nerves check in, sometimes it's too easy to forget you're actually engaging in a conversation. That's when you end up answering questions with a rapid-fire, ten-minute verbal eruption about justifications for your senior thesis, or that time you saved a kid's life in 7th grade, or how you're a really evolved team player. But if the interviewer is doing their job well, they'll make sure you don't have the opportunity to do that. They'll ask questions that allow you to focus on your skills and background, but then they'll follow those questions up with questions that give you the opportunity to illustrate your relevancy to their company. Even if they don't, it's your job to dive deeper into both areas, all within a couple sentences. It may sound like a lot, but don't worry; it's isn't difficult if you prepare.
Last week, we talked about how to answer the question, "Why are you interested in this position?" which is a great time to talk about yourself in your answer. Now, its time to address what will likely be the next question:
Why are you interested in working for this company?
Here's that opportunity to guide your answer in the other direction: to show off the research you've done about the company that has gotten you excited about the prospect of joining their team. Here's what to think about:
What to avoid—
When talking about the reasons you're interested in the company, avoid being too vague. Saying anything like, "I just love your mission," will come off as apathetic or un-researched. What is it about the company's mission that you love and why?
Equally unappealing when you answer this question is coming off as disingenuous. You might think the interviewer will enjoy the praise of hearing why their company is disrupting industry norms and changing the space for the betterment of the world. But trust us, no one's ego is that big. They'll see right through statements of admiration, so just don't go there.
Instead, here are a few things you can highlight:
1) Project based interests—
This is one of the best ways you can demonstrate knowledge about the company. In fact, you should almost always have one of the company's past projects, campaigns, cases, or products in mind when walking into the interview. What a company does is a huge reason you would want to work there, so it's a knock against you if an interviewer could tell you weren't familiar with what they've accomplished. If it's an architecture firm, bring up their winning project proposal. If it's an investment bank, bring up that major IPO from last year. And as always, be genuine. Being genuine generally means demonstrating specific knowledge, so this is the time to pull it out.
2) Ethics based reasons—
Ethics based reasons are great to bring up to build rapport with the interviewer, and to help them understand a little more about your personal motivations. One of the more obvious times to bring up an ethical motivation to work at a company is if you're interviewing with a non-profit. A company or non-profit based on a mission will expect their future employees to embrace their mission, so it would be an issue to not mention it. But non-profits aren't the only place to bring up ethics. Say you're interviewing with a biomedical research facility. Maybe there's an industry practice that you hold moral reservations about, and the facility you're interviewing with doesn't engage in the practice. This should have been something you found in your research, so bring it up! If it's something you truly admire about the company, the interviewer will appreciate your transparency on the topic.
3) Size based reasons—
If you want to experience the working conditions of a different size organization than you've already had exposure to, bring up the company size and structure in your reasoning. If your first job was at a company of eight people and now you want experience a larger organization, your interviewer wants to know. On the other hand, if you're an entry-level candidate interviewing with a start-up, talk about the benefits of starting a career at small company where you'll be able to master a wide range of skills faster than working at a larger company. Company size will play a major role in your day to day experience as an employee, so let the interviewer know that you're ready and excited about it.
As always, good luck!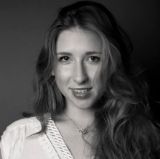 Alex Goldstein is a Social Media and Marketing Design Intern at FirstJob, and graduated from UCLA with a B.A. in Art History and World Arts and Cultures. She has recently fallen in love with scuba diving and plans to work on a dive boat in the future!