How to Answer the Most Common Interview Questions: Part 2
When it comes to any job search, a solid interview skillset is like your golden ticket. A tidied up social presence and a great resume is essential , but it'll only get you so far in the process. The interview is the moment; your one shot to leave a lasting impression. To that end, we've started a new series focused on helping you master the art of the interview. Each week, we'll provide interview questions from the very common to the very bizarre and provide interview tips for how to answer them.
The Important Question: Why are you interested in this position? / Why are you applying for this job?
First of all, just be happy you've made it past the small talk phase of your interview! Small talk is the worst. We're kidding (sort of) because those first couple of minutes can make or break your interview and are incredibly important. In case you missed it, check out our post from last week for some tips to start strong in your your next interview.
Now it's time to get serious. Since a question like, "why are you interested in…" will definitely come at the beginning of your interview, it's one of the most important questions to prepare for—for each and every interview (no cutting corners here). A useful first tip is to connect the answer to "why are you interested…" to your career objective that you outlined on your resume. The purpose is two-fold: to suggest that you have a few qualifications under your belt, and confirm that you're motivated to move forward on a certain career path.
You have two main things to cover, so here's what to think about:
1) You have the skillset to do the job well.
At the end of the day, the recruiter needs to know that you're prepared. If your resume doesn't already drive that point home (maybe you started your career in a different field or have a college degree that looks a bit of off-track), here's your opportunity to bridge the gap between the position requirements and what's written in black and white on your resume. Remember, there are a lot of different ways to perfect whatever skillset a job requires.
Because you'll likely have hard skills extensively laid out on your resume—Adobe Premiere, Excel, Mandarin Proficiency, etc.—you can go over these, but make sure to highlight your soft skills as well. If a particular camp councilor incident left you with solid leadership sensibility and the job requires management experience, bring it up. If you've lived 3 years of your life in Mexico City and the position requires some sensitivity to immigration policy, bring up your experience. Whether it's an internship, living in another country, your college major, or your involvement with a school play, just remember to highlight how the experience equipped you with the right experience to do the job well.
2) You have a strong interest in the role.
Skills will get you in the door, but the recruiter needs to see that you're genuinely excited about the position. If they can tell you're only curious about the company and not interested in the particular role—or you're maybe not interested at all—you're immediately going to be placed onto the "no" stack post-interview. Here's an opportunity to demonstrate why the prospect of working at the job for eight hours everyday is actually something you really, really want.
You can use concrete experience or plain old desire to illustrate your motivations behind pursuing the role. A motivation can be as simple as a desire to gain a better understanding about a field, a desire to get experience at a larger (or smaller) company, or a desire to perfect your "xyz" skills. The most important thing here is showing that you want it. You could be the most qualified person in the world, but if you don't really want the job, you're not going to be a smart hire. The recruiter knows that. If you show that you have the skills and have a serious motivation behind pursuing the position, you'll set yourself up for a great interview.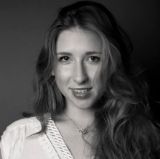 Alex Goldstein is a Social Media and Marketing Design Intern at FirstJob, and graduated from UCLA with a B.A. in Art History and World Arts and Cultures. She has recently fallen in love with scuba diving and plans to work on a dive boat in the future!