How to Answer the Most Common Interview Questions: Part 1
How to Answer the Most Common Interview Questions: Part 1
When it comes to any job search, a solid interview skillset is like your golden ticket. A tidied up social presence and a great resume is essential , but it'll only get you so far in the process. The interview is the moment; your one shot to leave a lasting impression. To that end, we've started a new series focused on helping you master the art of the interview. Each week, we'll provide interview questions from the very common to the very bizarre and provide interview tips for how to answer them.
To start out, congratulations! You've got an interview. You've made it in the door (which is huge in its own right). But right now is not the time to get fancy—its time to get smart about your answers.
The process can vary a lot, depending on company you're interviewing with and the personality of your particular interviewer. Everyone will want to know different things about your history and will potentially have very specific requirements for the person they're looking to hire. However there are quite a few basic questions that an interviewer would be hard pressed not to ask. You can charm them with well-practiced answers to more bizarre questions, but at the end of the day, the basics are what are going to get you hired. With an arsenal of strong, practiced responses to the most common interview questions for entry-level jobs, you're going to become a solid competitor.
Since this is the first in this series, let's start where every interview starts; the beginning of your conversation with your interviewer. According to this study on hiring practices, the most important aspect of your interview is not your answer to the question about your offbeat major; it's simply the way you answer the first question they'll ask.
The Important Question: How are you doing today? / How was your morning?
Why is this important:
First, remember that anyone conducting interviews is under a lot of pressure to make a good first impression, just like you are. Finding the best candidate for the role and continually meeting new faces, all while maintaining a bright and cheerful demeanor is—pretty much by definition—a trying process. No matter what introductory question they ask, this is your opportunity to be gracious and even make them laugh.
Second, the interviewer is not only trying to find the best fit for the position, they're also going to be mindful of how that person will fit into company culture. So, when you come into the interview room and display and inability to chit-chat and ask how their morning has been to get each other warmed up, you're actually coming off as either very nervous or worse, very unfriendly. Neither of those things are good first impressions to make.
What should you do:
Get your schmooze on. Put the interviewer at ease by making the interview feel more like a conversation and less like their 5th interview of the morning. Come in to the room with confidence, with a smile, and ready to talk to the interviewer about their day. If you don't like the word schmooze, just think about talking to one of your parent's friends. You can (and should) feel comfortable, but of course it's a time to remain polite. So if something interesting happened to you on your way to the interview, bring it up! See a tennis racquet in their office? That's a perfect reason to start a conversation about playing throughout your college years. Despite some popular belief, small talk isn't pointless at all. It's a great way to get acquainted and grow rapport while making both you and the interviewer feel at ease before getting into the real meat and potatoes of your conversation.
Think about it this way. If you walk into the interview overly ramped up and focused on remembering the interviewers name or what you memorized about the company beforehand, two things will happen. 1) You're going to come off as very rigid to everyone around you. 2) You're going to feel rigid yourself, which will negatively effect how you answer questions throughout the rest of the interview. The goal is to feel like yourself during your conversation, not rehearsed. So do yourself a favor, and lighten up over a bit of small talk. The little question, "How are you doing today?" is more of an opportunity to get started on the right foot than you think.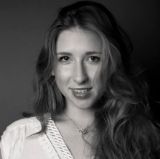 Alex Goldstein is a Social Media and Marketing Design Intern at FirstJob, and graduated from UCLA with a B.A. in Art History and World Arts and Cultures. She has recently fallen in love with scuba diving and plans to work on a dive boat in the future!