20 Questions to Never Ask During an Interview
Everyone has blurted out something during an interview that they regretted later on. Its just part of being an entry-level jobseeker, so don't feel bad when it happens (and try this out to get over any embarrassing faux pas). However when you're looking for your first job, it's definitely a good idea to work on minimizing these unfortunate interview errors in the future.
Something to think about is the type of questions you ask the interviewer, because the questions you ask might be just as important as your answers. The right questions will let the interviewer get a quick read on your interest level, dedication, and experience. Thought out questions will also help you gauge your level of sincere interest in the role and company. So use your time at the end of the interview wisely and score some bonus points with the interviewer. Remember, they're electing whether or not they want to spend roughly 8 hours of the day with you, so here's a quick rule of thumb: be kind, be sincere, and don't be a smart aleck.
There are a lot of questions that should never be asked during an interview, for any reason (and trust us there's more than a few reasons to avoid these). Here's a short list of questions that you should avoid if you're looking to get hired.
1. Is it always this cold in the office?
2. Do we take out the garbage, or does someone do it for us?
3. Do employees get discounts on anything?
4. Are all of the employees as well dressed as you? I like your shirt.
5. Do we get free lunch on Fridays?
6. What about checking our social media accounts. Do you do that a lot?
7. How long does your background check take?
8. How long do you expect me to be in the office? I prefer working from home.
9. Can I have a smartphone with unlimited data and usage? Obviously for the purposes of working.
10. Where do you see yourself in 5 years?
11. Any other perks that I should know about?
12. Will anyone be helping me to get me up to speed when I start?
13. Do you have a policy on drug use?
14. Why do you do (insert company policy)? My last company didn't do that.
15. What about employees' friend discounts?
16. Are there other jobs available to apply to at the moment?
17. How soon can new hires get a promotion?
18. Why aren't you guys working with (insert competitor company name), because they're doing a lot of (insert ways competitor company is doing awesome things)?
19. What happened to the last person in this role? Did they quit?
20. So how did I do?
Now that we got those out of the way, there are a few types of questions that you should definitely ask during your interview. The first kind shows off the research you've done about the company and the knowledge you have about a role. Because really, when's a better time to mildly pat yourself on the back for knowing something than in an interview? Ask about how the prospective role might straddle two departments and how management works between them, or about how the company is looking to achieve their goals for the new year.
The other acceptable type of question to ask will help you genuinely learn more about whether you're interested in pursuing the position. These questions will likely come about naturally in your conversation. Just remember, if you're curious about something that the role entails, ask about it! If you don't and you're offered the job, you may have landed yourself a position you didn't fully expect to be in. Especially as an entry-level jobseeker, make sure to get all the facts before being blinded by the excitement of a job offer. You want to love your first job! And trust us, there will be others.
If you need a little more help with your interview skills, check out how to correct the interviewer the right way here. Happy interviewing!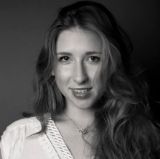 Alex Goldstein is a Social Media and Marketing Design Intern at FirstJob, and graduated from UCLA with a B.A. in Art History and World Arts and Cultures. She has recently fallen in love with scuba diving and plans to work on a dive boat in the future!